Local 4-H Resources and Information
Tennessee 4-H develops youth to thrive and to "make the best better." Youth participate in 4-H through clubs, special interest groups, after-school programs, camps, and many other methods. 4-H youth "learn by doing" through hands-on activities, starting in their own communities, and reaching far beyond; while empowering them to develop and strengthen valuable life skills.
4-H Pledge
I pledge my head to clearer thinking, My heart to greater loyalty, My hands to larger service, and my health to better living, for my club, my community, my country, and my world.
Students in grades 4-6 participate in monthly in-school 4-H Meetings. Homeschooled students meet monthly at the UT-TSU Extension Office.
The Tennessee Youth Livestock Program offers many opportunities to exhibit throughout the state.
You can personalize your 4-H experience by picking a project area! This is a collection of topics that you will focus your 4-H activities around. This focus area can help you prepare for your future career, and if you document these activities in your 4-H portfolio, you can compete for scholarships for college!
This is your opportunity to dream BIG and then chase those dreams with a community of support to help you.
Participating in judging teams
offers many benefits to 4-H members. Team members are exposed to teamwork, effective communication skills, and analytical thinking. Team members also build self-confidence as they become comfortable with judging. Development of these skills benefits every area of the judger's life.
Let your child's inner chef shine at this fun two day virtual cooking camp all about beef!
This camp is open to Junior High youth in grades 6th – 8th as of January 1, 2021.
To register, please visit our office.
An exciting day camp open to grades 4-8 that includes: archery, axe throwing, tie dye, leather crafts and more!
To register, please visit our office.
Hands-on projects in cooking, design, and textiles
To register, please visit our office.
4-H Electric Camp is a fun-filled, rewarding adventure in electricity. At these regional camps, you will learn what electricity is and how it works. You will work with electrical specialists from across the state in learning centers. Each learning center will consist of hands-on activities so that you can learn by doing. You will also have the chance to meet other 4-H'ers from across Tennessee and explore careers in energy, electricity, and basic sciences. It's an electrifying experience!
To register, please visit our office.
Contact Information
4-H encourages diverse groups of youth to develop their unique skills and talents to the fullest potential.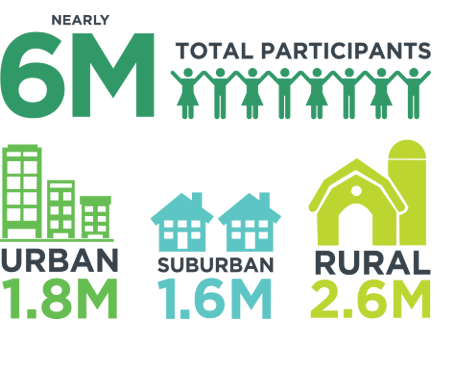 National Reach, Local Programs
In 4‑H, kids complete hands-on projects in areas like health, science, agriculture and civic engagement in a positive environment where they receive guidance from adult mentors and are encouraged to take on proactive leadership roles. Kids experience 4‑H in every county and parish in the country through in-school and after-school programs, school and community clubs and 4‑H camps.
4‑H's reach and depth are unmatched, reaching kids in every corner of America – from urban neighborhoods to suburban schoolyards to rural farming communities. Our network of 500,000 volunteers and 3,500 4‑H professionals provides caring and supportive mentoring to all 6 million 4‑H'ers, helping them grow into true leaders today and in life.