To join, Coffee County 4-H, click HERE to fill out a registration form.
Contact Information
Michelle Matthews
Extension Agent
931-723-5141
jmatthe1@utk.edu

Neil Slone
Extension Agent
931-723-5141
nslone1@utk.edu

4-H encourages diverse groups of youth to develop their unique skills and talents to the fullest potential.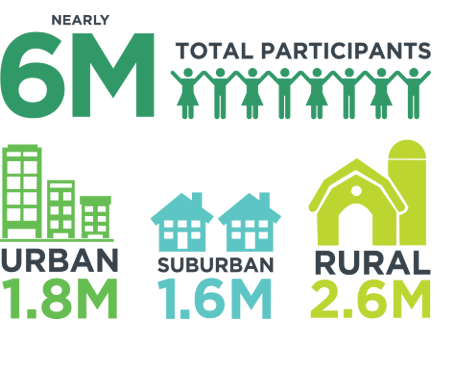 National Reach, Local Programs
In 4‑H, kids complete hands-on projects in areas like health, science, agriculture and civic engagement in a positive environment where they receive guidance from adult mentors and are encouraged to take on proactive leadership roles. Kids experience 4‑H in every county and parish in the country through in-school and after-school programs, school and community clubs and 4‑H camps.
4‑H's reach and depth are unmatched, reaching kids in every corner of America – from urban neighborhoods to suburban schoolyards to rural farming communities. Our network of 500,000 volunteers and 3,500 4‑H professionals provides caring and supportive mentoring to all 6 million 4‑H'ers, helping them grow into true leaders today and in life.